Transport:
Air Disasters (excluding Mbuzini)
Dossier MZ-025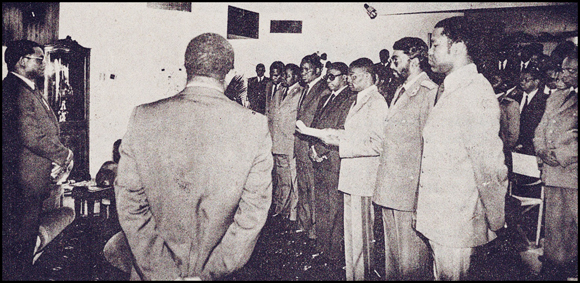 Above: High-level Frelimo Party and Government figures offering their condolences in a formal ceremony to Alberto Joaquim Chipande (extreme left in the picture) shortly after the Pemba air crash in March 1986 in which his wife Maria, herself an antigo combatente, was killed.
This page is one of a series on the economics and politics of transport in contemporary Mozambique up to 1994/1995. It includes reports on aviation accidents and disasters between 1973 and 1994, with the exception of the disaster at Mbuzini which killed President Samora Machel. For material on the economics and politics of aviation in general, click here.
The dossier includes reports on the accidental shooting-down in August 1981 by the FPLM of a French Dakota survey plane in Gaza province; the 1982 military helicopter crash in Inhambane that killed eight army officers; several other crashes involving light aircraft and helicopters between 1982 and 1986; the fatal accident at Pemba on 30 March 1986, involving an overloaded AN-26, in which 49 people died including Maria Chipande, an ex-combatent and the wife of Alberto Chipande; the DC-3 crash at Quelimane in April 1988; and the accident involving a LAM Boeing 737 at Lichinga in 1989. There are also reports on several other fatal and non-fatal incidents involving both military and civilian aircraft.
MHN Resources
Consolidated Downloadable Zipped Files
Click on the yellow folder image below to download an unsorted zipped archive of 55 documents and press reports in PDF format on aviation accidents and disasters in Mozambique between 1973 and 1994. This archive was created on 14 February 2021.