The Conflict with Renamo, 1976-1992
«May 1991»
Dossier MZ-0020



135. Thousands Flee as the War Hots Up
and Talks Continue in Rome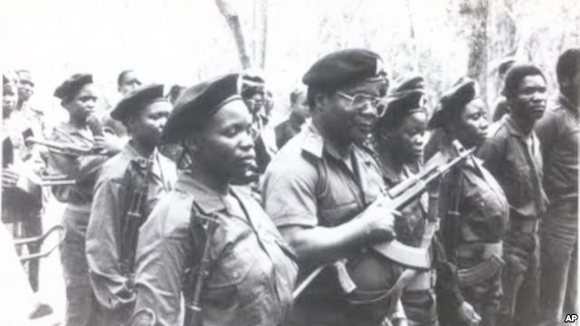 Above: Afonso Dhlakama (1953-2018), leader of the Renamo movement, in military uniform and toting an automatic weapon, surrounded by Renamo fighters. Dhlakama survived the 16-year conflict to become an unsuccessful parliamentary opposition leader, losing a succession of presidential elections. He died suddenly in 2018 at his base in the Gorongosa mountains, reportedly from complications with diabetes.
While the Peace Talks continued thousands of kilometres away in Italy, Renamo mounted two attacks on the town of Ressano Garcia, sending large numbers of panicked rural and peri-urban Mozambican refugees fleeing in waves across the border into South African territory. During another assault, on the port town of Chinde on the Zambezi river in the centre of the country, several people drowned while trying to escape the fighting. Renamo additionally ambushed two trains on the line from Malawi to Nacala, and there were again reports of facial mutilation of civilians – the cutting off of ears, lips and noses – carried out by instrumentalised children under Renamo orders. Near Chimoio in Manica Province opportunistic bandit activities began to be carried out by gangs with no connection to the Renamo group, who simply ambushed and robbed people in vehicles on the Beira-Chimoio road.
Consolidated Downloadable Zipped Files
Click on the yellow folder image below to download an unsorted zipped archive of documents and press clippings in PDF format concerning the armed conflict between Renamo/MNR and the Mozambican government in March 1991.