The Conflict with Renamo, 1976-1992
«February 1984»
Dossier MZ-0020



48. Passenger Train Ambushed;
Soviet Prisoners of MNR Set Free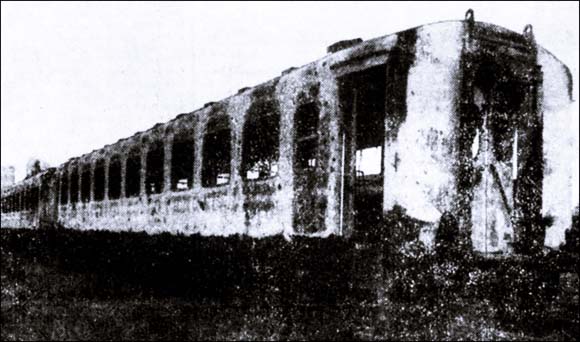 Above: One of the burned-out carriages of the passenger train that was ambushed on Monday 6 February 1984. Six people were killed.
Early in the month Renamo attacked a train at the Chinhanguanine station, about 60 km. from the border with South Africa, killing six people and wounding another 11. The attackers used a bazooka and machine-guns during the assault, which took place in the early evening. Afterwards, the train was set on fire. The local station-master commented that the motive for the attack was evidently "nothing other than to kill people and rob them."
Twelve Soviet citizens who had been working as technical advisors in pegmatite mining in Zambézia, and had been kidnapped by the MNR/Renamo in August 1983, were finally rescued by the FPLM, the government army, during an attack on a major rebel camp. The operation involved 2,500 soldiers and 500 militiamen. The freed technicians were kept under medical observation in Maputo after their ordeal.
Consolidated Downloadable Zipped Files
Click on the yellow folder image below to download an unsorted zipped archive of documents and press clippings in PDF format concerning the armed conflict between Renamo/MNR and the Mozambican government in February 1984.