The Conflict with Renamo, 1976-1992
«April 1987»
Dossier MZ-0020



86. Mozambique is Not a Communist Country, Says US State Department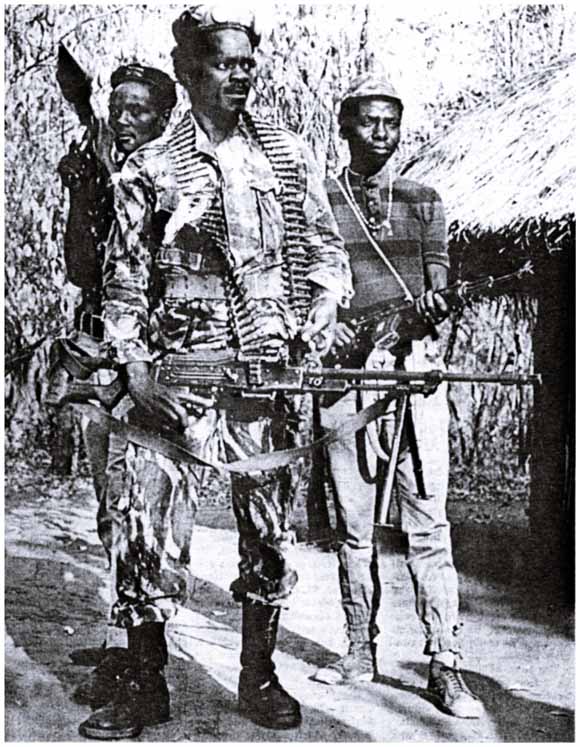 Above: The Renamo commander Calisto Meque, described as a "general" in Zambézia, posing rather self-consciously with a large gun and two other rebels. Meque was killed in Gile, Zambézia, in September 1988. Photo: Frank Spooner.
Despite pressure from conservative and ultra-right interests in the United States to support Renamo in the same concrete ways that the US was supporting UNITA in Angola, the State Department continued to resist the complaints, stating before Congress in March that ""We do not consider the government of Mozambique to be … a Communist government … we do not think [the Renamo rebels] stand for any sort of Mozambican nationalism".
The liberal Danish newspaper Politiken (founded 1884) ran articles by the journalist Jørn Ruby after he entered Mozambique and spent time with Renamo groups.
The Mozambican prime minister, Mário Machungo, speaking in Switzerland, rejected the idea that the conflict in Mozambique was a civil war, arguing that it was rather "a situation of destabilisation and aggression waged by the South African racist regime".
Click on the yellow folder image below to download an unsorted zipped archive of documents and press clippings in PDF format concerning the conflict between the Mozambican government and the MNR/Renamo in April 1987.