The Conflict with Renamo, 1976-1992
«May 1987»
Dossier MZ-0020



87. Renamo's "Alfazema" Base, on the Malawi Border, Captured by FPLM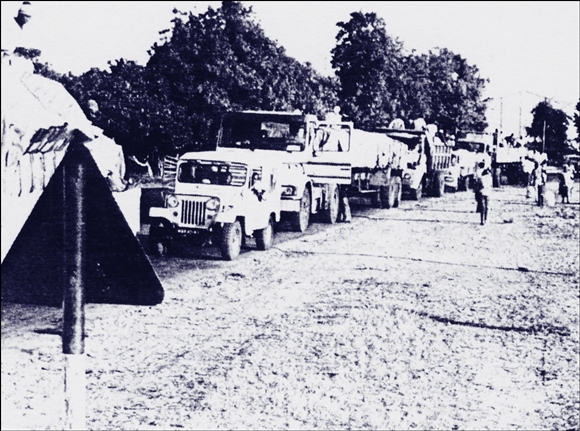 Above: A vehicle convoy about to cross the often dangerous "Tete corridor" from Zimbabwe, a route that was frequently subject to MNR/Renamo attacks.
The FPLM, with support from Tanzanian and Zimbabwean troops, captured the Alfazema base in Zambézia province. The base, close to the Malawi border, was large enough to accommodate 5,000 men.
A captured counter-intelligence operative with dual Mozambican-South African nationality was presented to the press in Maputo. Daniel Amosse Madonzele, also known as Jaíme Júlio Mondlane, confirmed extensive and ongoing South African involvement in the Mozambican conflict.
A representative of SWAPO, the Namibian liberation movement, testified that Renamo figters, as well as members of armed opposition groups in other southern African countries that were supported by South Africa, had received training within Namibia (South-West Africa, then still under illegal South African occupation).
Click on the yellow folder image below to download an unsorted zipped archive of documents and press clippings in PDF format concerning the conflict between the Mozambican government and the MNR/Renamo in May 1987.