The Conflict with Renamo, 1976-1992
«September 1990»
Dossier MZ-0020



127. Kenya Denies Involvement in the Conflict:
"No Training Camp, No Transit of Materiel"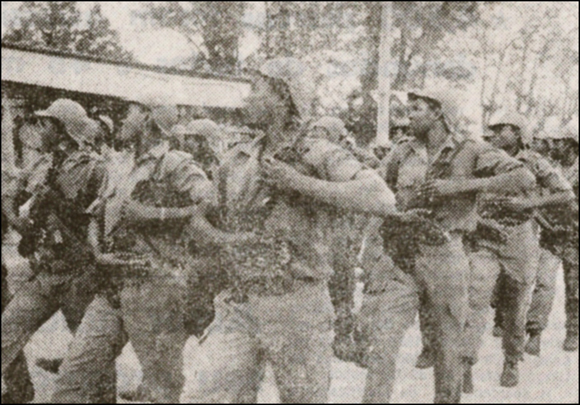 Above: This photograph was published in Notícias to accompany a report about a youth militia training. Note that the youths in the image are well-armed, apparently well-drilled, and wearing smart uniforms, which was not always the case with militias.
In August the Mozambican news agency AIM had reported that a group of Kenyan-trained Renamo fighters had entered Tete province near Tsangano village. A story published in the London newspaper The Independent on 28 August claimed that there was a Renamo training camp in Kenya, and that after completing their training, fighters were infiltrated back into Mozambique via Malawi, with help from the Young Pioneers, a paramilitary organisation that was personally loyal to President Hastings Banda. However, in September the Kenyan High Commission in Harare denied there reports, stating that it was not Kenyan policy to support rebellion while enjoying "friendly relations with the target country".
During September Renamo groups carried out attacks in Chiconela, in Gaza, in Villa Gorongosa, along the border with the Zimbabwean province of Manicaland, and kidnapped two young Zambian women. The government claimed that in the first six months of 1990, 95 MNR were killed in Niassa, five camps were razed, and 21 rebels were captured.
Consolidated Downloadable Zipped Files
Click on the yellow folder image below to download an unsorted zipped archive of documents and press clippings in PDF format concerning the armed conflict between Renamo/MNR and the Mozambican government in September 1990.