The Conflict with Renamo, 1976-1992
«December 1991»
Dossier MZ-0020



142. Naparama Leader Manuel António Dies in Battle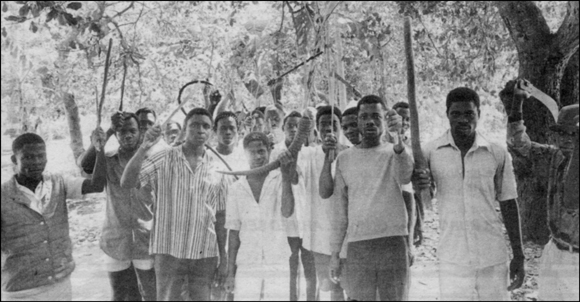 Above: Naparama fighters with their "traditional" weapons, i.e. spears, machetes and bows-and-arrows. Photo: Kok Nam.
The leader of the Naparama peasant insurgency was shot and killed in an encounter with Renamo fighters. Renamo mounted attacks in the northern Beira suburb of Manga, and carried out massacres in Angoche and Gaza, as well as attacking Nampula and Namarroi. Some Renamo fighters were reported to have infiltrated into Zimbabwe.
Consolidated Downloadable Zipped Files
Click on the yellow folder image below to download an unsorted zipped archive of documents and press clippings in PDF format concerning the armed conflict between Renamo/MNR and the Mozambican government in December 1991.