The Conflict with Renamo, 1976-1992
«September 1989»
Dossier MZ-0020



115. RENAMO Claims Cuban Troops Are in Mozambique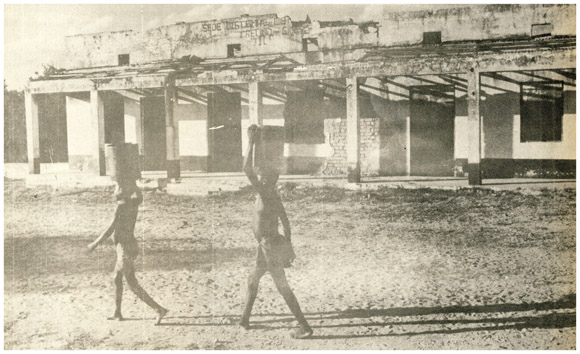 Above: The town of Gile in northern Zambézia was occupied by Renamo for two years, from 1986 to 1988, and was left in ruins. In the picture two young girls carry water early in the morning (judging from the length of their shadows) past the shell of a building.
A Frelimo Party official, Alfredo Guesi Nhantumbo, was killed in a RENAMO assault on Muchuquete, in Chibuto, where he was working on party business.
Manuel Frank, the RENAMO spokesperson in Lisbon, claimed that 595 Cuban soldiers had arrived in Mozambique in late August, but were being passed off as Mozambican troops returning from training overseas.
In another communiqué issued in Lisbon, RENAMO claimed that both Tanzanian and Zimbabwean troops, as well as the FPLM, have suffered casualties in fighting around the country. The statement said that there were "thousands" of Zimbabweans involved in combat.
Click on the yellow folder image below to download an unsorted zipped archive of documents and press clippings in PDF format concerning the conflict between the Mozambican government and the MNR/Renamo in September 1989.