The Conflict with Renamo, 1976-1992
«May 1989»
Dossier MZ-0020



111. SA Aggression Costs the Region Billions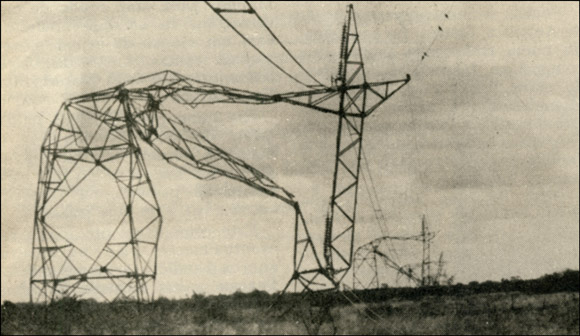 Above: The power lines from the Cahora Bassa hydroelectric dam in Tete province ran for several hundred kilometres across country, and were impossible to defend from sabotage: Renamo blew them up regularly, to the irritation of South Africa's electricity utility company, Eskom.
A report by the Harare-based NGO the Southern African Research and Documentation Centre (SARDC) estimated that the total cost to the economies of the six members of the Frontline States grouping was at least US$35 billion. In Mozambique alone, 3,000 schools had had to close, and ten rural hospitals were no longer operating.
A Namibian citizen, Paulus Marcos, was arrested and arraigned in Swaziland after he was caught attempting to smuggle "sophisticated" weapons into Mozambique for RENAMO. The equipment included a two-way radio, and explosives and detonators for making bombs.
Zambian troops entered Mozambique towards month's end in hot pursuit of a RENAMO unit that had shot four Zambian citizens and kidnapped a local woman. The Mozambican authorities had authorised Zambian forces to enter the national territory in such circumstances.
Click on the yellow folder image below to download an unsorted zipped archive of documents and press clippings in PDF format concerning the conflict between the Mozambican government and the MNR/Renamo in May 1989.