The Conflict with Renamo, 1976-1992
«June 1982»
Dossier MZ-0020



28. João Ataíde and Jorge da Costa Defect;
Major Offensive in the Beira Corridor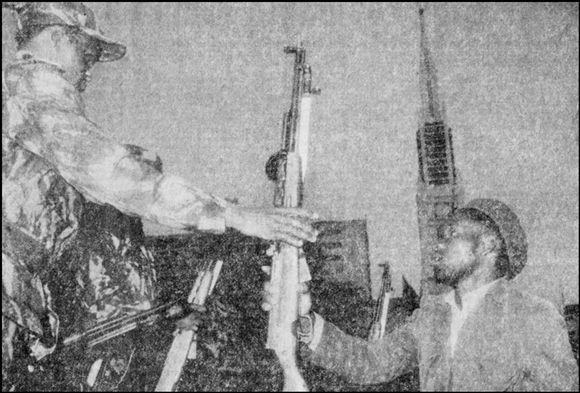 Above: Arms being distributed to civilian militia members under the slogan "Armas para o Povo", as promised by President Samora Machel in a speech on 22 June.
The Mozambican army launched an offensive to clear the route from Beira to Mutare, in which the MNR claimed that both Zimbabwean and Tanzanian troops were involved. This was denied by the Zimbabwe authorities.
In an article on the integration of militia members into production cooperatives, it was mentioned by a local Frelimo Party organiser that the main obstacles to development were "superstition, witchcraft, early marriage, and religious propaganda". In a radio programme broadcast by the BBC World Service, John Burlison, the British ecologist who spent five months as a prisoner of the MNR; and Fernando Honwana, a senior advisor to President Machel, both took part. Honwana emphatically denied that the government would change its policy direction as a consequence of MNR pressure.
In a speech on 22nd June, Machel promised a mass arming of the citizenry of Maputo, as well as the introduction of other security measures in the city.
In June both Jorge da Costa, a senior Mozambican security official, and João Ataíde, Mozambican ambassador in Portugal defected, the former to South Africa. Ataíde eventually joined Renamo.
Consolidated Downloadable Zipped Files
Click on the yellow folder image below to download an unsorted zipped archive of documents and press clippings in PDF format concerning the armed conflict between Renamo/MNR and the Mozambican government in June 1982.