The Conflict with Renamo, 1976-1992
«April 1982»
Dossier MZ-0020



26. Adriano Bomba Testifies to the US Congress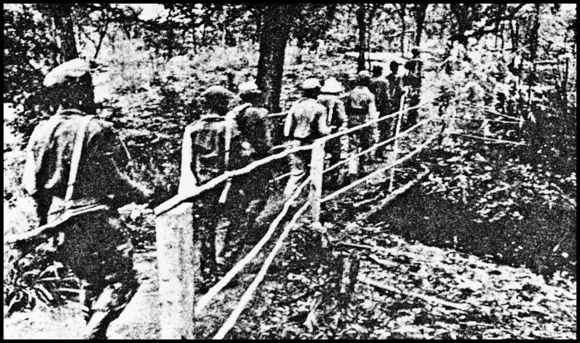 Above: A lightly-armed FPLM column crossing a footbridge in wooded country during the conflict with Renamo.
Adriano Bomba, the Mozambican air-force pilot who defected to South Africa in July 1981 by flying his MiG aircraft into South African airspace - and subsequently joined Renamo - visited Washington DC to testify before a Congressional Committee investigating "Soviet-backed terrorism" in Southern Africa. Bomba's testimony was published in The Role of the Soviet Union, Cuba, and East Germany in Fomenting Terrorism in Southern Africa, Hearings Before the Subcommittee on Security and Terrorism of the Committee on the Judiciary (United States Senate, Ninety-seventh Congress, Second Session), especially pages 676-689. (Note: this document is in the public domain and Bomba's testimony can be read in its entirety on the Google Books website here) Bomba spoke about the re-education camps, and stated that he was compelled to become a pilot against his will; under the Portuguese, he claimed, he could have chosen his own profession.
In an interview published in the army newspaper Combate, an FPLM commander described an operation in January, in which government forces captured an MNR base in a game reserve in Inhambane.
Consolidated Downloadable Zipped Files
Click on the yellow folder image below to download an unsorted zipped archive of documents and press clippings in PDF format concerning the armed conflict between Renamo/MNR and the Mozambican government in April 1982.