The Conflict with Renamo, 1976-1992
«July 1987»
Dossier MZ-0020



89. Massacre in Homoine; Renamo Continues to Switch Attention Southwards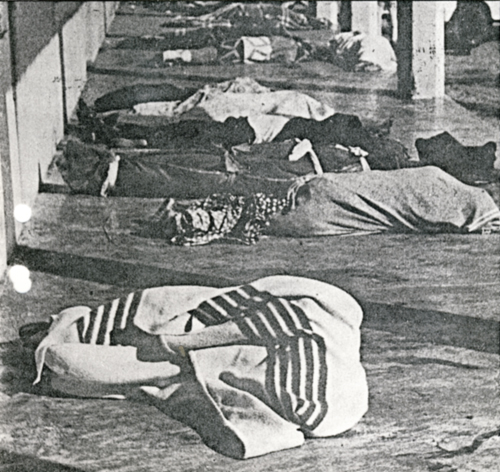 Above: Some of the victims of the Homoine massacre of 19 July 1987, in a contemporary newspaper photograph. The final death toll was 424 people killed (including women and children); another 298 people were abducted.
On the massacre of several hundred people by Renamo in the town of Homoine: for MHN resources, see here. For an eyewitness account of the attack by the Mennonite agronomist Mark van Koevering, see The Black Scholar November/December 1987, pages 43-44 (click here, requires subscription).
The US State Department issued a statement confirming that although "low-level talks" had been held in Washington DC with MNR representative Luís Serapião (a Mozambican-born professor at Howard University), there was no intention to change policy or to extend recognition to the rebel group.
It was clear by this time that the MNR/Renamo had switched strategy and begun to concentrate its focus on the food-producing southern provinces of Gaza, Inhambane and Maputo itself, away from the core area of Gorongosa in Manica province. Men had been infiltrated from South Africa along the lengthy land border with Gaza province. Identifiable objectives were to cut transport links between Maputo and the Limpopo Valley, a fertile rice-producing area, as well as keeping the Limpopo railway line to Zimbabwe closed and unrehabilitated. It had become clear that the offensive down the Zambezi Valley had failed, with the rebels unable to hold on to the small towns that they captured, and with Gen. António Hama Thai in command of government forces blocking the way to Quelimane and Mocuba.
Click on the yellow folder image below to download an unsorted zipped archive of documents and press clippings in PDF format concerning the conflict between the Mozambican government and the MNR/Renamo in July 1987.