The Conflict with Renamo, 1976-1992
«March 1992»
Dossier MZ-0020
145. Government Troops Accused of "Arbitrary Behaviour", including Stock Theft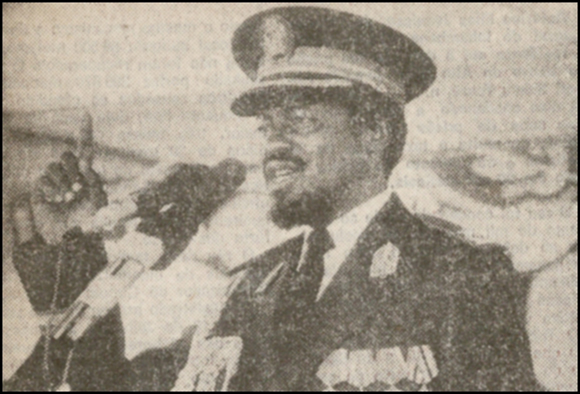 Above: President Joaquim Chissano making a speech while wearing the full dress uniform of a general officer in the Mozambican army.
In Moiane district in Zambézia province, local residents complained that government troops had committed various offences against the population – including stealing cattle and maize – and that it was like living under a "military dictatorship". The army also began officially to investigate claims by Captain Muzamilo Cassimo, who had complained about corruption and illegalities in the army and security forces in Nampula. The Frelimo Party's Central Committee issued a statement noting the need for discipline in the army, as well as better management and control. Meanwhile Renamo attacks on urban peripheries continued – in Maputo, Dondo, and Nampula – although in one report a Renamo spokesperson denied that his group was involved in attacks on suburbs, since this was the population that would vote for them in the future. Renamo was also involved in ivory trading and drug smuggling. There were several reports of Renamo fighters having been trained in Kenya and then infiltrated back into the country through Malawi.
Consolidated Downloadable Zipped Files
Click on the yellow folder image below to download an unsorted zipped archive of documents and press clippings in PDF format concerning the armed conflict between Renamo/MNR and the Mozambican government in March 1992.