The Conflict with Renamo, 1976-1992
«February 1986»
Dossier MZ-0020



72. Mozambican Helicopter Gunship Crashes at Marromeu, Killing Crew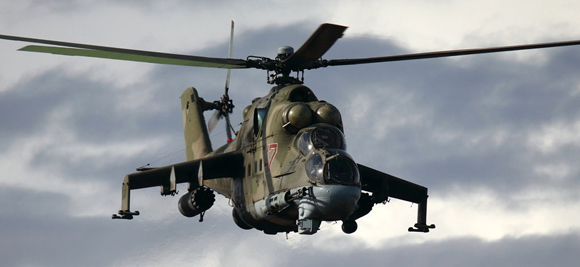 Above: A Soviet-made Mil Mi-25 helicopter gunship of the type lost in the accident at Marromeu. These aircraft were nicknamed "flying tanks" by some of their pilots and crews. Photo: Igor Dvurekov, http://russianplanes.net/id53229.
MNR rebels ambushed a goods train as it crossed the Swaziland (present-day Eswatini)-Mozambique border, killing a driver and wounding another member of the crew. Swaziland was a source of recruits for the movement, which press-ganged illegal Mozambican labour migrants into joining their ranks.
The Tribunal Militar Revolucionário – Mozambique's draconian military tribunal – sentenced four captured MNR members to death and imposed lengthy jail terms of up to 18 years on several others.
The Estado-Maior General issued a communiqué announcing that one of its helicopters had crashed in Marromeu, apparently killing all on board. The helicopter was a Soviet/manufactured Mil Mi-25, capable of carrying eight passengers as well as crew, and was first used in combat in the Ogaden war of 1977-1978 between Ethiopia and Somalia. It was used worldwide by nearly 60 different aIr forces
Click on the yellow folder image below to download an unsorted zipped archive of documents and press clippings in PDF format concerning the conflict between the Mozambican government and the MNR/Renamo in February 1986.