The Conflict with Renamo, 1976-1992
«June 1987»
Dossier MZ-0020



88. Renamo Strategy Turns to the South; Italian Journalist Killed in Battle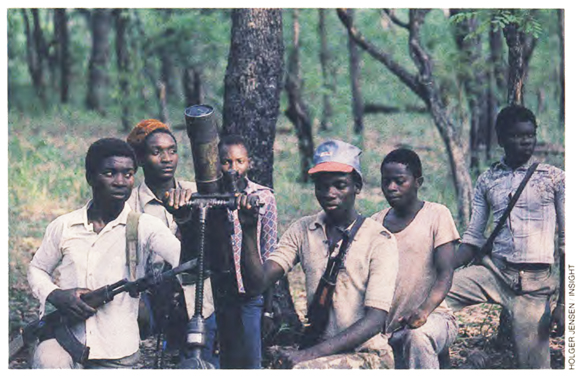 Above: A group of casually-dressed MNR/Renamo fighters with captured Soviet-made weaponry. Photo: Holger Jensen.
The Italian Journalist Almerigo Grilz, known in Mozambique as a propagandist for the MNR/Renamo, was killed while "embedded" with Renamo fighters in an engagemenent near the town of Caia in the Zambezi Valley. Grilz had entered Mozambique illegally before, from Malawi in 1986, and proof of his activities from Malawian soil was included in a dossier that the Frontline States used later that year to pressure President Hastings Banda to withdraw his support from the rebels.
The deaths of several Malawian railway workers during a Renamo attack on Malema, inside Mozambique led to strained relation with South Africa, which continued to back and supply the rebels, in violation of the Nkomati Accord. Pretoria's ambassador in Lilongwe was summoned to receive a strong protest from the Malawian government.
Fighting intensified in the three southern provinces of the country, according to the FPLM's radio programme Voz de Combate, as the movement began to concentrate on destroying food supplies and rail links in the south. The same source also reported that around 1,000 men had been infiltrated into Gaza province from South Africa, to join a group of 500 rebels who had entered the country in previous weeks.
Click on the yellow folder image below to download an unsorted zipped archive of documents and press clippings in PDF format concerning the conflict between the Mozambican government and the MNR/Renamo in June 1987.