The Conflict with Renamo
«November 1984»
Dossier MZ-0020



57. Portugal Part of the Problem, and South
Africa Not Observing the Nkomati Accord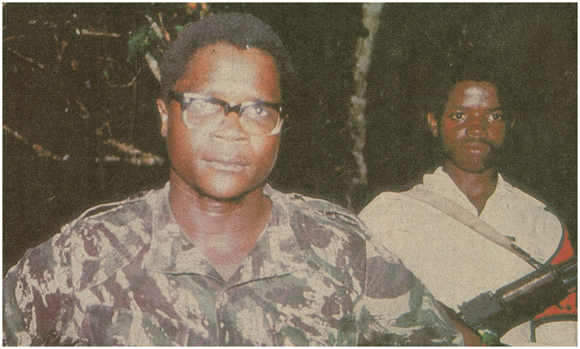 Above : Renamo leader Afonso Dhlakama photographed in the bush in the mid-1980s, with a bodyguard.
Mozambique continued to see the Portuguese government as a major obstacle, citing the involvement of the industrialist Manuel Bulhosa as part of the problem. The Ministry of Foreign Affairs in Maputo published a stiff note, stating that the Portuguese ambassador had been summoned to convey to Lisbon the Mozambican government's "grave concern" that Portuguese citizens were preparing and leading acts of banditry against Mozambique from Portuguese soil. Only a couple of days later a Portuguese travelling from South Africa was killed by the MNR in an ambush near Moamba.
The MNR killed 17 people in Chimoio, in Manica province, and another 12 in Guruè. The FPLM reported killing 150 "bandidos" in Zambézia, another 171 in Gaza and Tete, and 50 in Maputo province.
Click on the yellow folder image below to download an unsorted zipped archive of documents and press clippings in PDF format concerning the conflict between the Mozambican government and the MNR/Renamo in November 1984.