O Século de Joanesburgo
O Século de Joanesburgo (1963- ) is a conservative Portuguese-language weekly newspaper published in Johannesburg, primarily serving the Portuguese community in South Africa. Its coverage of Angola and Mozambique over the years has been extensive, although often lacking in depth of analysis. It is presently owned by the Angolan-born entrepreneur and banker Horácio Roque, who fled from Luanda to Johannesburg in 1975 at the age of 32. He bought the newspaper in 1987.
O Século continues to appear, and is one of the oldest Portuguese-language newspapers published in and for Portuguese comunidades. The newspaper was active during virtually the entire historical period which is the focus of MHN, and during the armed conflicts in Mozambique and Angola, it often published reports on the activities of Renamo and UNITA. The newspaper currently has a website here.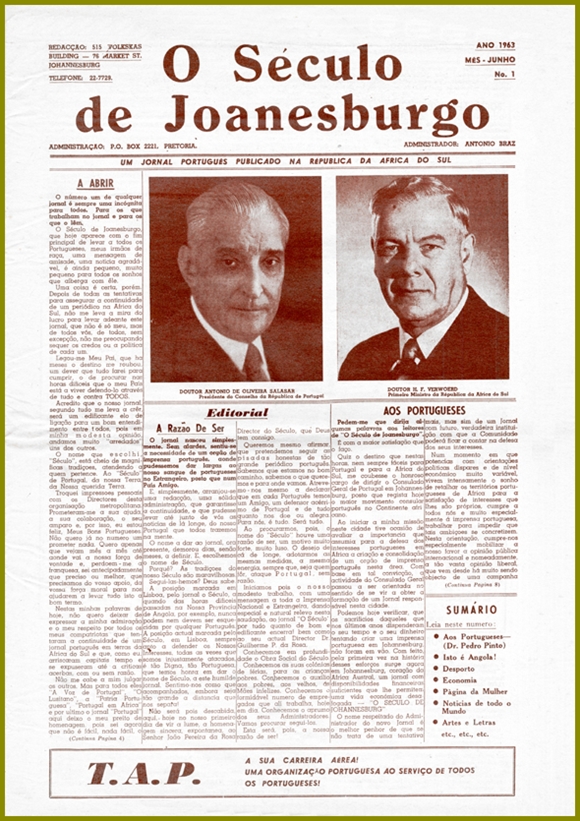 Above: The front page of the first issue of O Século de Joanesburgo, June 1963. The two photographs are of Dr. António de Oliveira Salazar, the Portuguese dictator, and Dr. H. F. Verwoerd, South African prime minister and architect of apartheid.