The Conflict with Renamo, 1976-1992
«October 1992»
Dossier MZ-0020
152. Fighting Continues Despite the Ceasefire;
Renamo Captures Port Towns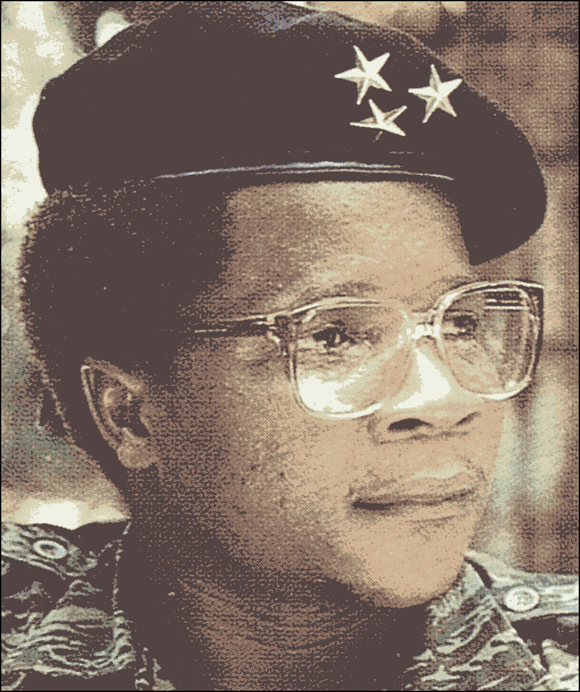 Above: Afonso Dhlakama (1953-2018), leader of the Renamo movement, wearing combat fatigues and photographed during the conflict with the Mozambican government. Dhlakama died suddenly in 2018 at his base in the Gorongosa mountains, reportedly from complications with diabetes.
Although President Joaquim Chissano and Renamo leader Afonso Dhlakama signed a ceasefire in Rome in October, sporadic fighting continued around the country throughout the month. Renamo mounted an ambush on the road to Swaziland (Eswatini), killing two South African drivers, and in a major violation captured Lugela, Angoche and Maganja da Costa in Zambézia province and Memba in Nampula. Government forces recaptured Angoche and Memba at month's end. The government claimed that Renamo was interested in controlling port towns in order to to secure future arms deliveries.
This is the last page in MHN's series on the conflict. For material on military and political processes in the aftermath of the conflict up until the elections of 1994, see the series of chronological pages on the Peace Process.
Consolidated Downloadable Zipped Files
Click on the yellow folder image below to download an unsorted zipped archive of documents and press clippings in PDF format concerning the armed conflict between Renamo/MNR and the Mozambican government in October 1992.