The Conflict with Renamo, 1976-1992
«June 1985»
Dossier MZ-0020



64. Renamo Criticises UNITA, and
Complains about Zimbabwean and
Tanzanian Troop Presence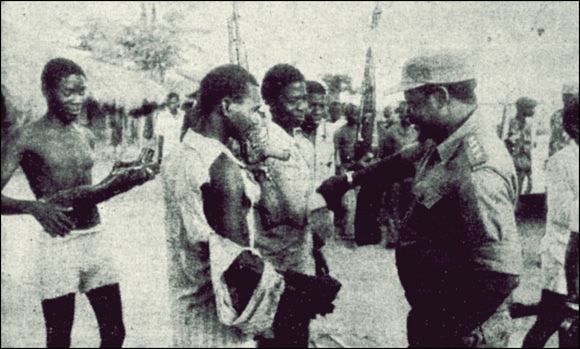 Above : General Alberto Chipande during the distribution of weapons to the population in Quissanga, Cabo Delgado.
UNICEF officials estimated that the war and the disruption of agriculture that it had brought about, combined with bad weather in Mozambique was threatening to bring starvation to about 2.5 million people. The conflict had coincided with a three-year drought, while in some parts of the country flooding had caused damage.
In turning down an invitation to attend a meeting of various "contra" groups in Jamba, southern Angola, a Renamo spokesperson dismissed UNITA (which was based there) as a "tribal movement" that claimed actions actually carried out by the SADF. It was not immediately clear what the reason for the comment was. Renamo also expressed unhappiness with what it claimed was the presence of ten battalions of Zimbabean troops and another 8,000 Tanzanians, assisting the Mozambican government.
General Alberto Chipande, the Minister of Defence, took part in a ceremony in Quissango, in Cabo Delgado, in which weapons were distributed to the povo so that they could "defend the motherland" against the MNR.
Click on the yellow folder image below to download an unsorted zipped archive of documents and press clippings in PDF format concerning the conflict between the Mozambican government and the MNR/Renamo in June 1985.