The Conflict with Renamo, 1976-1992
«June 1992»
Dossier MZ-0020
148. UN Report on Use of Chemical Agents in January Attack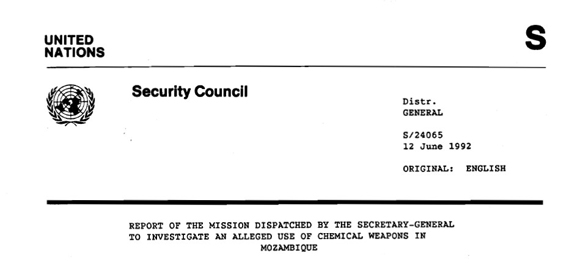 Above: The report on the possible use of chemical agents in a Renamo attack in January was published in June, but did not come to a firm conclusion.
A three-person team of experts appointed by the UN to examine evidence of the use of chemical agents in an attack in January 1992 published a report. The experts concluded that "The effect … was consistent with the use of an atropine-like chemical warfare agent and also with severe heat stress … In the current absence of analytical data, we cannot conclude that a chemical warfare agent was used in the attack … A considerable delay occurred between the attack and the investigation being mounted. For this reason, it may not be possible to detect traces of agent if a chemical warfare agent had been used in the attack. Meanwhile, various Renamo attacks resulted in 15, 60, 26, and 5 deaths, as well as kidnappings. The rebels resumed attacks on railway lines, and attempted without success to capture Chibuto in Gaza province. A group of nine different Catholic missionary orders issued a statement blaming both Renamo and the government for "crimes against the people".
Consolidated Downloadable Zipped Files
Click on the yellow folder image below to download an unsorted zipped archive of documents and press clippings in PDF format concerning the armed conflict between Renamo/MNR and the Mozambican government in June 1992, including the UN report.