The Conflict with Renamo, 1976-1992
«September 1983»
Dossier MZ-0020



43. Enraged Crowd Stones
Captured MNR's in Maxixe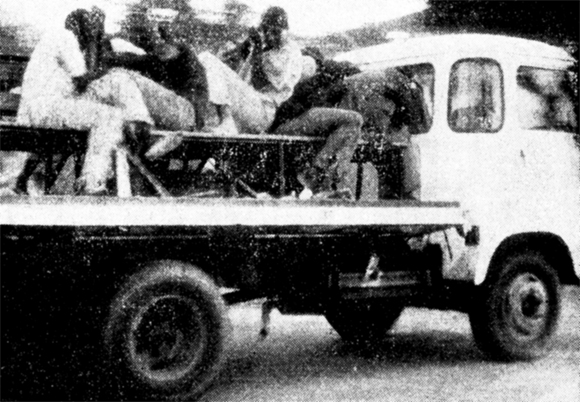 Above: Former MNR members duck as they are showered with stones and other missiles by an enraged crowd at a rally in Maxixe, Inhambane province.
The military commander in Inhambane, Maj.-Gen. Domingos Fondo, led a counter-offensive against the MNR, destroying camps in Mabote, Vilanculo, Mambone and Jangamo. Fondo paraded some MNR prisoners at a rally in Maxixe. A considerable amount of booty that the FPLM had recovered from the rebels was also put on display (click here for a photo gallery).
In an attempt to limit support for the Frelimo government, the MNR warned foreigners working in Mozambique that it would not accept responsibility for any deaths or injuries to them; "their blood will certainly be shed. Last month's offensive by the rebels had been dubbed "Red August".
In a report on the sexual abuse suffered by women captives of the MNR, former prisoners testified that "at night they would come to fetch us to sleep with the commanders".
Consolidated Downloadable Zipped Files
Click on the yellow folder image below to download an unsorted zipped archive of documents and press clippings in PDF format concerning the armed conflict between Renamo/MNR and the Mozambican government in September 1983.