The Conflict with Renamo, 1976-1992
«November 1986»
Dossier MZ-0020



81. Joaquim Chissano Becomes President of Frelimo and of the Republic: the War Continues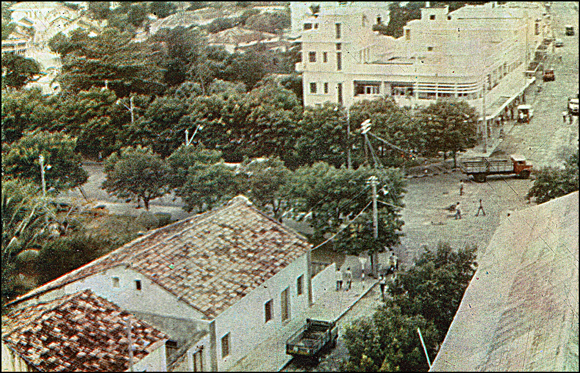 Above: A view of the town of Inhambane, provincial capital of the province of the same name. Inhambane, where government forces were commanded by Gen. Domingos Fondo, was the scene of some of the most brutal fighting in the conflict.
Early in November, Joaquim Chissano, Mozambique's long-serving foreign minister, was sworn in as the country's second president, after the death of Samora Machel in the aviation disaster at Mbuzini.
A Soviet radio commentary accused the Portuguese government of "tolerating" the hatching of counter-revolutionary plots by the Angolan movement UNITA, as well as by the MNR/Renamo, on its national territory. Both movements had friends and allies in Portuguese right-wing circles.
The South African commercial airline Comair, denied any involvement in supplying arms to either the MNR/Renamo or to UNITA in Angola.
News broke of two separate massacres in Inhambane province in October and November. One, with 25 people hacked to death, took place in Jangamo district; the other, near Massinga, resulted in the deaths of 19 people, including some children. There were also some sightings of South African submarines off the Inhambane coast.
The journalist Paul Moorcraft visited a Renamo camp and published a report on his experiences in the Johannesburg Sunday Times under the sensationalist headline "Inside Mad Max Country".
Click on the yellow folder image below to download an unsorted zipped archive of documents and press clippings in PDF format concerning the conflict between the Mozambican government and the MNR/Renamo in November 1986.