The Conflict with Renamo, 1976-1992
«April 1991»
Dossier MZ-0020



134. The Renamo War Economy;
Ivory, Guns, and Protection Rackets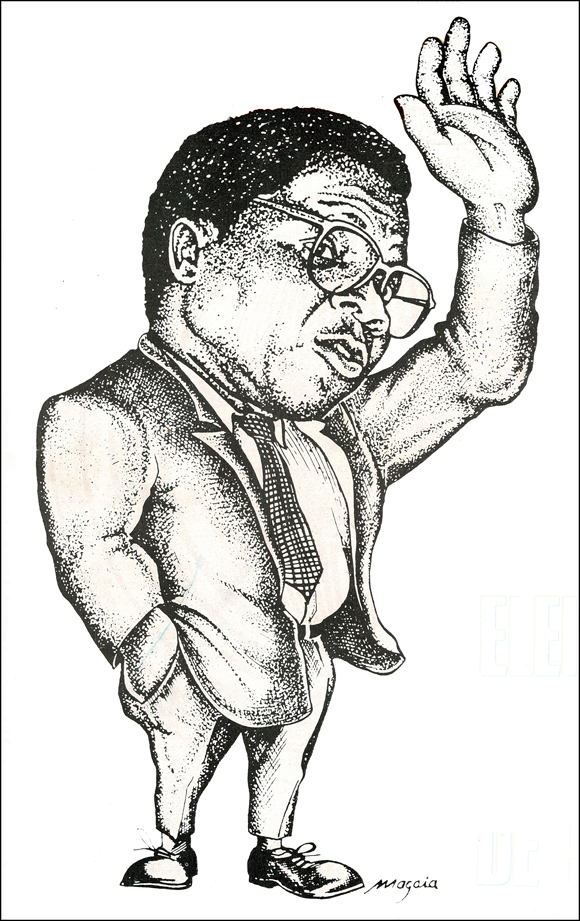 Above: A cartoon depicting the Renamo leader, Afonso Dhlakama, by the artist Francisco Magaia.
Several reports in April, including one in the London-based newsletter Africa Confidential, described Renamo's practice of negotiating secret agreements with private companies and even national governments (such as Malawi). The Malawi deal apparently involved the granting of freedom to trade in ivory and cashew, in return for not attacking Malawi's rail and road trade routes. Documents captured by the Mozambican army revealed plans to trade ivory and semi-precious stones in order to purchase missiles in the United States, where the rebel movement enjoyed support from multiple extreme right-wing individuals and organisations, contrary to official State Department policy. Other reports described attacks on a train, killing railway workers, and on Chimoio town in Manica province. Meanwhile Renamo claimed that government troops had carried out an assault on a Red Cross centre at Senga-Senga, near where the rebels maintained a "sophisticated" communications base, captured and destroyed by the FPLM in an operation at the beginning of the month.
On 18 April. the Mozambican army captured a "secret presidential base" at Nhamagodoa in the central province of Sofala, seizing large quantities of rebel documents, which were only released to the press in June. Most of the material dated from 1986-1988 and showed that Kenyan support for Renamo dated from mid-1988.
Consolidated Downloadable Zipped Files
Click on the yellow folder image below to download an unsorted zipped archive of documents and press clippings in PDF format concerning the armed conflict between Renamo/MNR and the Mozambican government in April 1991.