The Conflict with Renamo, 1976-1992
«July 1983»
Dossier MZ-0020



41. South African Plane with Special Branch
Agents Lands Illegally in Nampula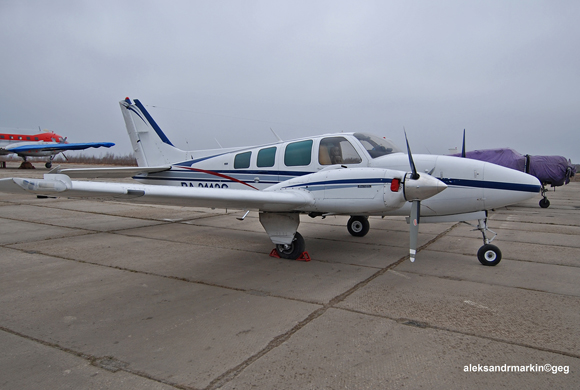 Above : A Beechcraft Baron 58 twin-engine light aircraft of the type that was involved in the incident in late July. The model was introduced in 1969 and seats a pilot and 5 passengers. Photograph: Aleksandr Markin/Александр Маркин.
The South African-Comoros connection was partially exposed when a South African light aircraft with six people on board landed in Nampula in northern Mozambique en route from Mayotte to Durban. The SABC reported that it had been "forced to land" after being intercepted in Mozambican airspace. The Maputo newspaper Notícias however affirmed that the pilot had asked permission to land, but had been refused. He then landed anyway, alleging that he was short of fuel, which turned out to be a false statement. Relatives of the passengers in South Africa were warned not to speak to the press; it was widely believed in Mozambique that those on board were French and South African special agents, although this was not confirmed.
The Mozambican government continued to call for preparedness in the case of a direct South African attack (the Beirut Option).
The MNR functionary Evo Fernandes, resident in Lisbon, announced that he intended to move to South Africa to take over as secretary-general of the rebel movement after the murder of Orlando Cristina in Pretoria in April. This contradicted earlier reports that the role had been assumed by Adriano Bomba.
Consolidated Downloadable Zipped Files
Click on the yellow folder image below to download an unsorted zipped archive of documents and press clippings in PDF format concerning the armed conflict between Renamo/MNR and the Mozambican government in July 1983.