The Conflict with Renamo, 1976-1992
«November 1990»
Dossier MZ-0020



129. "Between Two Terrors"?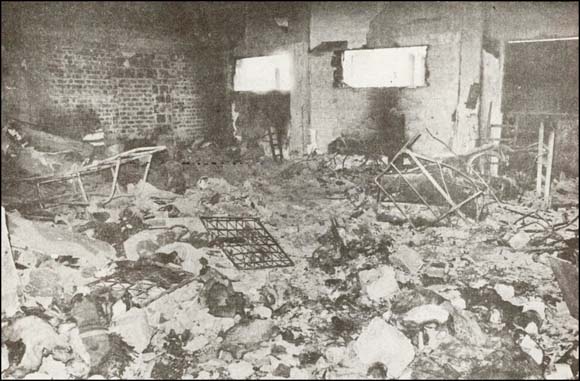 Above: The aftermath of a Renamo attack on railway installations in 1989: this CFM warehouse was completely ransacked.
In a full-page review of Christian Geffray's book La cause des armes au Mozambique: anthropologie d'une guerre civile published in the Times Literary Supplement on 9-15 November 1990, the Brazilian anthropologist Peter Fry presented what he called "two radically-opposed 'official' explanations for the origins and continuation" of the conflict in Mozambique. On the one hand, Renamo represented itself as "fighting for full democracy", while on the other the Frelimo Party government claimed that Renamo was merely a gang of mercenary bandits organised by South Africa and former Portuguese settlers in a war of destabilisation. Evidence gathered by researchers such as Robert Gersony and William Minter showed that this latter position had considerable merit, but, wrote Fry, Geffray's book showed that the truth was more complicated. Geffray was especially critical of the Frelimo Party's attitude towards the complex local cultural and social practices of Mozambican people.
Earlier in the month, Afonso Dhlakama agreed to stop attacks on the 900 km.-long power lines from Cahora Bassa to South Africa. Renamo raids hit Mbuyangwana, a Maputo suburb, as well as a bairro communal in Nampula province. The group suffered 20 fighters killed in a raid on Mocuba, in the central region of Zambézia.
Consolidated Downloadable Zipped Files
Click on the yellow folder image below to download an unsorted zipped archive of documents and press clippings in PDF format concerning the armed conflict between Renamo/MNR and the Mozambican government in November 1990.