The Conflict with Renamo, 1976-1992
«November 1988»
Dossier MZ-0020



105. Renamo Activity Shows Sharp Increase after South Africa's Whites-Only Elections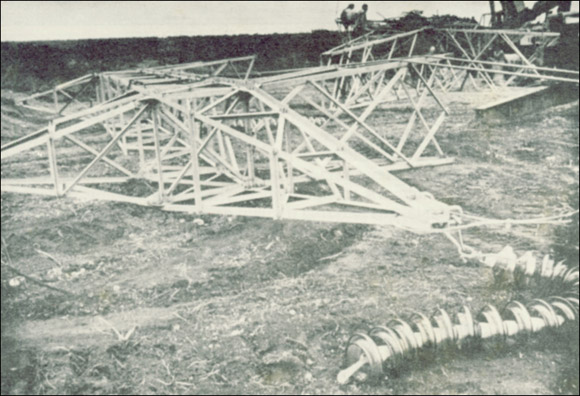 Above: The destruction of the power lines running from the Cahora Bassa hydroelectric project in Tete was an easy and effective tactic used frequently by Renamo. The pylons did not even need to be completely toppled for the power supply to be interrupted. Cahora Bassa was seen by Frelimo as something of a white elephant, and the HCB company remained under foreign control for many years after independence.
The influence of events outside Mozambique on the ebb and flow of the conflict between the government and the rebel movement Renamo was illustrated again by a sharp increase in rebel attacks after the South African whites-only elections held in September. Actions included three attacks on electricity power lines into Maputo, causing partial blackouts in some areas of the city; attacks on trains on the southern lines; and cross-border attacks in Zambia and Zimbabwe. (The "Nats" won a majority of seats, with the right-wing Conservative Party as the official opposition.)
Click on the yellow folder image below to download an unsorted zipped archive of documents and press clippings in PDF format concerning the conflict between the Mozambican government and the MNR/Renamo in November 1988.