Mozambique's International Relations
with the German Democratic Republic
Dossier MZ-0119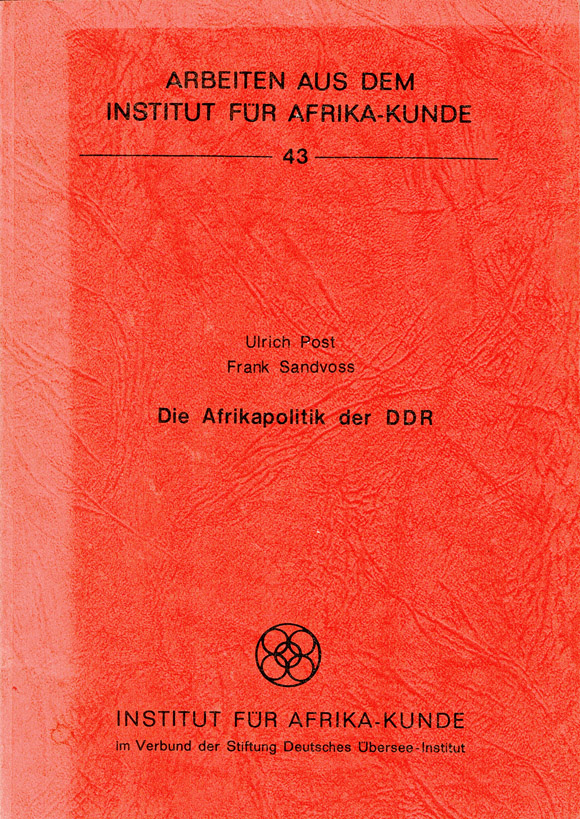 The authors of the above work, published in Hamburg in 1982, commented on pages 156-157:
… an intensification of East Germany's policy towards Africa did not take place until 1973. The completion of the Basic Treaty between the two German states and the membership of the UN ended the GDR's isolation … and paved the way for new avenues in foreign policy. Marxism-Leninism provides the theoretical basis and the official framework for its policies, guaranteeing a uniform evaluation of political issues … justifying the legitimating claims of policy decision-makers … and facilitating any subsequent justification of the foreign policy activities … However, GDR policy towards Africa is not as straightforward or uncompromising as its ideological foundations would lead us to suppose.
Flourishing cooperation with private capitalist firms in western orientated African countries, and, in particular, the fact that the GDR … cooperates economically with South Africa shows that even in East Germany it is possible for economic interests to assert themselves over political ideological principles. These economic interests on the one hand and the fundamental, loyal orientation of foreign policy towards the superior interests of the Soviet Union on the other are the two major determinants of East Germany's policy towards Africa. Its autonomous political freedom of action finds its limits where it would be in open conflict with the Soviet Union. Most certainly its freedom of action in the area of military cooperation – the extent and significance of which is usually wildly exaggerated – is less than in the area of trade relations, where its own interests are clearly visible. This is true for importing of raw-materials as well as the sales of certain products (usually finished or semi-finished goods). On the whole the GDR has succeeded in presenting itself to many African states as a reliable political and economic partner. Its work … on development projects … and its support of liberation movements have ensured a good reputation in many parts of Africa … The rising claims of the developing countries and, simultaneously restricted financial possibilities limit the scope of future relations between the GDR and Africa. It is true that trade exchange and certain forms of bilateral cooperation with African states can be extended. However, its area of influence, i.e., countries which East Germany could influence decisively in the formulation of their policies, is hardly likely to grow beyond Angola, Mozambique and Ethiopia.
Dossier MZ-0119
MHN Resources
Consolidated Downloadable Zipped Files
Click on the yellow folder image below to download an unsorted zipped archive of documents and press clippings in PDF format concerning relations between the Mozambican government and the German Democratic Republic (Deutsche Demokratische Republik, República Democrática Alemão, East Germany) between 1977 and 1994, as well as some other general materials.