The Conflict with Renamo, 1976-1992
«August 1982»
Dossier MZ-0020



30. Malan Threats Raise Possibility of the
"Beirut Option" for the First Time;
Ruth First Assassinated in Maputo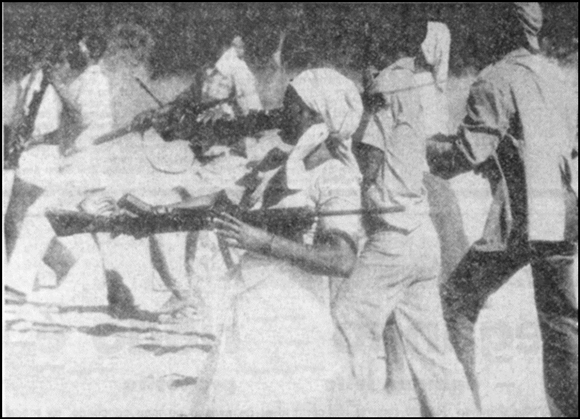 Above: Militia members, including women, undergoing weapons training as part of the government policy of arming the povo in the struggle against the MNR.
In menacing comments at the congress of South Africa's ruling National Party, defence minister Gen. Magnus Malan stated that the country would not "tolerate" the placing of missile defences along its border by Mozambique. He added that a similar missile deployment by Syria had been the proximate cause of Israel's invasion of Lebanon earlier in the year. This broad and threatening hint set off a flurry of speculation about the probability of a South African military invasion of southern Mozambique, the so-called "Beirut Option".
On 17 August, the South African academic and journalist Ruth First was murdered in her office at the Centro de Estudos Africanos of the Universidade Eduardo Mondlane by means of a parcel bomb sent to her by the apartheid regime. Click here to see contemporary press reports.
An intensive rescue operation was mounted during the month for the Italian priest who had been kidnapped by the MNR in July.
Consolidated Downloadable Zipped Files
Click on the yellow folder image below to download an unsorted zipped archive of documents and press clippings in PDF format concerning the armed conflict between Renamo/MNR and the Mozambican government in August 1982.