The Conflict with Renamo, 1976-1992
«March 1982»
Dossier MZ-0020



25. Captured Documents Proving
South African Support for the MNR
Released by Ministério da Defesa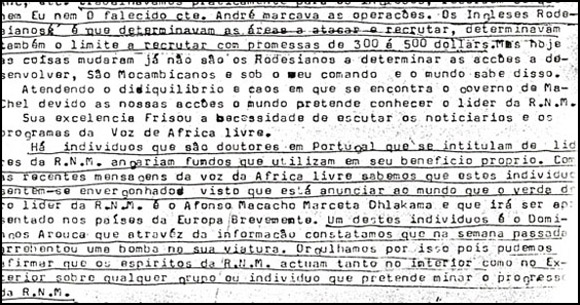 Above and below: Passages from the compromising documents found at Garágua camp, published in the weekly news-magazine Tempo.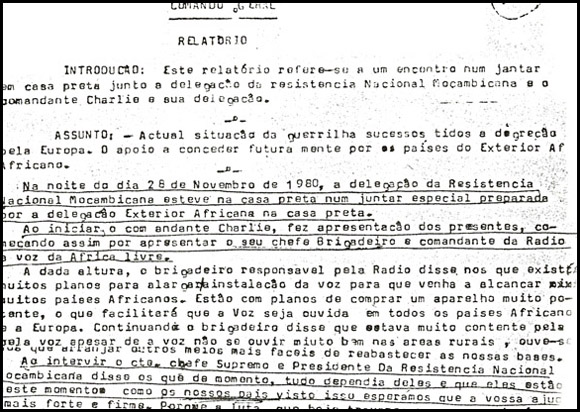 Documents discovered in the MNR base at Garágua, captured by the FPLM in December 1981 were released by the Mozambican Ministry of Defence. Among the documents were four reports of meetings with South African army officers – including "Brigadier Charlie" – at a place reported as being called "Zoabostad". MHN has been unable to identify the location of this place, described as being an MNR base near Phalaborwa in the Transvaal, but which seems only to have ever been mentioned in connection with the Garágua documents or the MNR. The newspaper Notícias began to publish a lengthy series of articles by Manuel Tomé under the rubric «Lições de uma Viagem». There were also clashes with the MNR in Manica, and a rebel base at Papatane, in northern Inhambane, was captured by government forces.
The Mozambican news agency AIM published a 14-page analysis of the MNR by Paul Fauvet and Alves Gomes.
Consolidated Downloadable Zipped Files
Click on the yellow folder image below to download an unsorted zipped archive of documents and press clippings in PDF format concerning the armed conflict between Renamo/MNR and the Mozambican government in March 1982.