The Conflict with Renamo, 1976-1992
«March 1987»
Dossier MZ-0020



85. "This is Not a Civil War" – Francisco Madeira, Mozambican Ambassador in Harare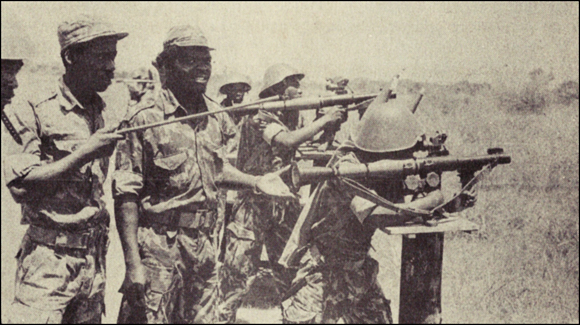 Above: Recruits in the Mozambican army – the FPLM – undergoing weapons training in the 1980s.
The Beria daily Diário de Moçambique carried a report on internal disputes within the external leadership of the MNR/Renamo, especially between Evo Fernandes, the secretary-general, and Jorge Correia, the group's European spokesperson. According to the newspaper, both had recently been expelled from the movement by a so-called "Conselho Nacional Executivo".
In the Zimbabwe Senate, the upper house of Parliament, former Rhodesian rebel defence minister P. K. van der Byl – who was a senator – was challenged to provide details of the founding of the MNR/Renamo by the regime in the late 1970s, especially since much of the documentation from the period had been destroyed. However, he did not respond.
Teodato Hunguana, the Mozambican Minister of Information, in remarks to reporters in London, stated that the "war of destabilisation" in Mozambique was regional in character, and that the balance of forces was changing: he cited Malawi's new attitude, and the fact that Tanzanian and Zimbabwean troops were involved in the conflict as evidence of this. An important agreement on security issues had been signed with Malawi at the end of 1986, he added.
Click on the yellow folder image below to download an unsorted zipped archive of documents and press clippings in PDF format concerning the conflict between the Mozambican government and the MNR/Renamo in March 1987.