The Conflict with Renamo, 1976-1992
«March 1990»
Dossier MZ-0020



121. Major Joint Offensive Launched
by Mozambique and Zimbabwe;
Secret Bases Still Operating in South Africa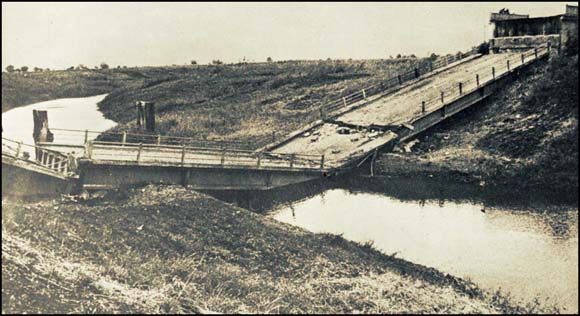 Above: an archive photograph of a road bridge destroyed during the war. The damage to Mozambique's transport infrastructure during the conflict was immense.
Reports from Lisbon, which were not confirmed by the authorities in Maputo, said that a big offensive had been launched by Mozambican and Zimbabwean government forces against Renamo's central base in the Gorongosa mountains, including the deployment of airborne troops.
Political pressure on the South African government to halt support for Renamo increased, with an intervention by Nelson Mandela, who called for an investigation into sources of assistance for the group. A group of international aid and development organisations working in Mozambique published a letter demanding that clandestine aid to Renamo be stopped. A front-page story in the progressive South African newspaper The Weekly Mail claimed that Renamo was still receiving support from South African security structures as well as from business sources. Refugees were being pressured to join the rebel movement. The murdered academic David Webster, gunned down in front of his house on 1 May 1989, may have been killed because he had uncovered a "Renamo support network" in the Kosi Bay area in northern Natal.
Incidents during the month included the release of some Spanish sailors who had been abducted by the rebels in November, and sporadic violence along the Zimbabwean side of the border with Mozambique.
Consolidated Downloadable Zipped Files
Click on the yellow folder image below to download an unsorted zipped archive of documents and press clippings in PDF format concerning the armed conflict between Renamo/MNR and the Mozambican government in March 1990.