The Conflict with Renamo, 1976-1992
«October 1988»
Dossier MZ-0020



104. MNR Attempted to "Infiltrate" Tanzania, Says Chipande; Renamo to Upgrade Public Relations Drive Despite Cash Shortage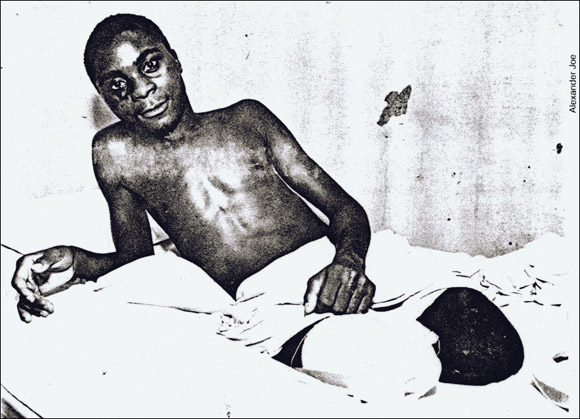 Above: An unidentified man in hospital after having lost his legs by stepping on a landmine, a weapon extensively used during the conflict in Mozambique (and also by UNITA in Angola).
Without offering any detail, Minister of Defence Alberto Chipande claimed during a speech at the military academy in Nampula that Renamo had tried to "infiltrate" Tanzania in 1986, but had suffered what he called "a crushing defeat" of their attempt to split Mozambique into two along the Zambezi valley.
Renamo's representatives in West Germany and North America were reportedly running out of money, and personal tensions between leading personalities such as Francisco Nota Moisés, Luís Serapião and Artur Fonseca were steadily worsening. However, in another, contradictory report from Johannesburg, it was announced that the movement planned to upgrade its public relations activities "by naming various militants for posts of major responsibility with a view to intensifying the organisation's political activity".
The trial of the Mozambican John Mataveya in the Harare high court attracted press attention in Zimbabwe. Mataveya was accused of two counts of murder, three of armed robbery, one of attempted murder, and a count of possession of "arms of war", and a series of witnesses offered horrific testimony on the brutality of the conflict.
Click on the yellow folder image below to download an unsorted zipped archive of documents and press clippings in PDF format concerning the conflict between the Mozambican government and the MNR/Renamo in October 1988.