The Conflict with Renamo, 1976-1992
«August 1985»
Dossier MZ-0020



66. Renamo Claims Struggle is in "Final Phase"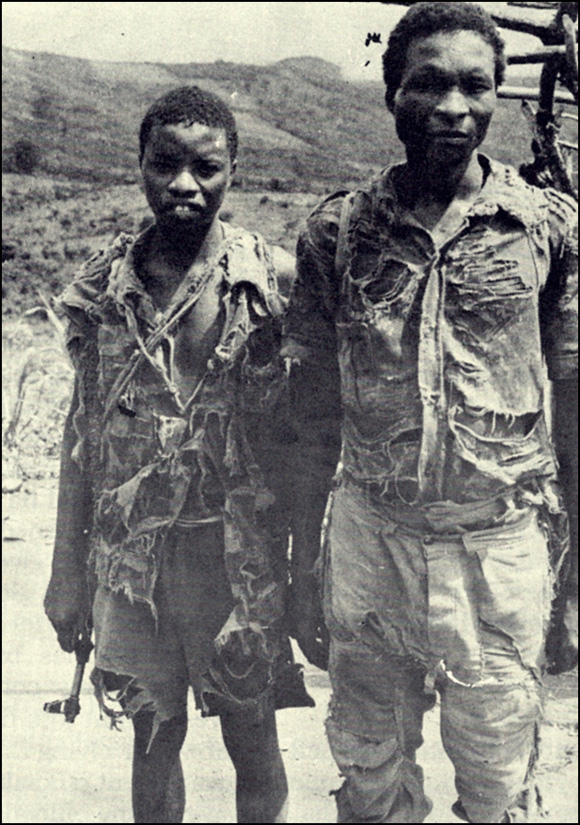 Above: Two militiamen in Zambézia, mid-1980s. Although both are armed, the men are dressed in ragged clothes, indicative of the breakdown of ordinary commercial activity because of the war; Renamo ambushes made road travel, even in protected convoys, highly dangerous.
In a communiqué issued in Lisbon, Renamo claimed that it had used "heavy artillery" in attacks on the towns of Inhambane and Lichinga, the provincial capitals of Inhambane province and Niassa province respectively. They also claimed to have shot down a MiG-17 of the Mozambican air force, and to have occupied buildings and railway facilities for over a month, in what the communiqué termed the "final phase" of its struggle against the government.
The brutality of the war continued without respite. Renamo attacked mourners at a funeral in Angónia, Tete province, killing 33 of them. In another incident that took place in Vila Namaacha, in Maputo province, Renamo elements dressed in FPLM uniforms entered a house where an engagement party was being held, and killed seven people. One of the survivors was shot five times.
The government held the first few of a planned 50 meetings in a mass mobilisation campaign to encourage unmarried Mozambicans under 30 and who were not studying to enlist in the army. The first meetings were held in factories in various areas of Maputo.
Click on the yellow folder image below to download an unsorted zipped archive of documents and press clippings in PDF format concerning the conflict between the Mozambican government and the MNR/Renamo in August 1985.