The Conflict with Renamo, 1976-1992
«December 1986»
Dossier MZ-0020



82. Israeli Instructors Training the MNR in Malawi, says Jeune Afrique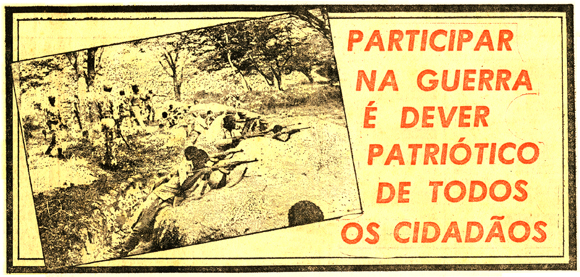 Above: A small "watchword" or slogan published in Notícias on 9 December, telling readers, above a picture of a militia group, that "to participate in the war is the patriotic duty of all citizens".
Ongoing negotiations about the possible release of foreign abductees who had been kidnapped by the MNR/Renamo were suspended over a demand by the rebels that three hostages would only be freed if the Portuguese, West German, and British governments intervened directly on behalf of three individuals. The MNR threatened to keep the prisoners captive until they "took power in Maputo".
The MNR did eventually release 57 captives on the Malawi border – 43 Portuguese, ten Pakistanis, two Cape Verdians and two Mauritians, and they were taken first of all to Maputo. The Mozambican Ministry of Information subsequently protested strongly against what it called a "shameful campaign" in the Western and South African press against the Mozambican government over this, and reiterated that the released prisoners were entirely free to stay in Mozambique or to leave for any destination that they chose.
The Paris-based French language news magazine Jeune Afrique reported that MNR fighters were being trained in Malawi by Israeli instructors.
The FPLM announced that in the past eight months they had killed 457 MNR rebels, and taken 11 prisoners in operations in Maputo province, They had also captured 50 automatic weapons, including three 60 mm. mortars and large quantities of ammunition.
Click on the yellow folder image below to download an unsorted zipped archive of documents and press clippings in PDF format concerning the conflict between the Mozambican government and the MNR/Renamo in December 1986.