Transport:
Aviation and Air Transport
Above: A full-colour advertisement for LAM published in a Parisian magazine on 20 July 1980, only a couple of months after the scandal-plagued colonial airline DETA was closed down and replaced by LAM.

Above: A McDonnell Douglas DC-10 three-engine wide-body passenger jet of the type operated by LAM for several years after 1983. The aircraft first flew in 1970, but it had a poor safety record (see the sub-folder of clippings in the dossier below). LAM flew its DC-10 to Paris and other long-haul destinations through the 1980s without incident.
This page is one of a series on the economics and politics of transport in contemporary Mozambique up to the mid-1990s. This dossier covers commercial aviation, especially reports on the DETA, LAM and TTA enterprises, from the early 1970s to 1998. The history of civil aviation in the period involves a series of scandals involving large-scale corruption in the sale of tickets (seen as economic sabotage by the government), the actual theft of aircraft, and hi-jacking. The delivery of a wide-bodied long-haul DC-10 jet in 1983 was extensively covered in the local press, but the sector faced multiple difficulties, including problems with the supply of aviation fuel.
Above: A cartoon showing four queues or lines ("bichas" in Mozambican popular speech) for fish, bicycles, soap, and stamps, all items in short supply in the 1980s. In the foreground, a man asks a bystander, "Where's the line to buy an airplane?" There were several incidents of major theft and corruption, including the stealing of light aircraft, during the immediate post-independence decades.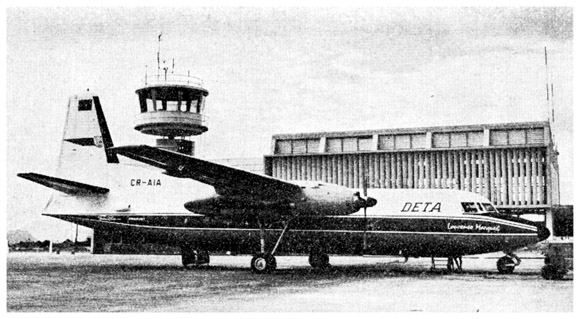 Above: A Fokker F27 Friendship twin-engine turboprop passenger aircraft of the type operated by DETA before Mozambican independence; the airline also operated Boeing 737s. The Friendship was manufactured in the Netherlands, and first flew in the 1950s, operating as an air transport workhorse in Mozambique in the late colonial period.
Note: for reportage on the Mbuzini disaster of 1986 in which President Samora Machel was killed, click here. For general reports on aviation accidents and disasters, click click here.
MHN Resources
Consolidated Downloadable Zipped Files
Click on the yellow folder image below to download a dossier of 100 reports and articles on civil aviation in Mozambique between 1971 and 1998. This archive was created on 15 February 2021 .