The Conflict with Renamo, 1976-1992
«March 1984»
Dossier MZ-0020



49. Journalist Pedro Tivane Killed in Ambush
"Rádio Quizumba" Closes Down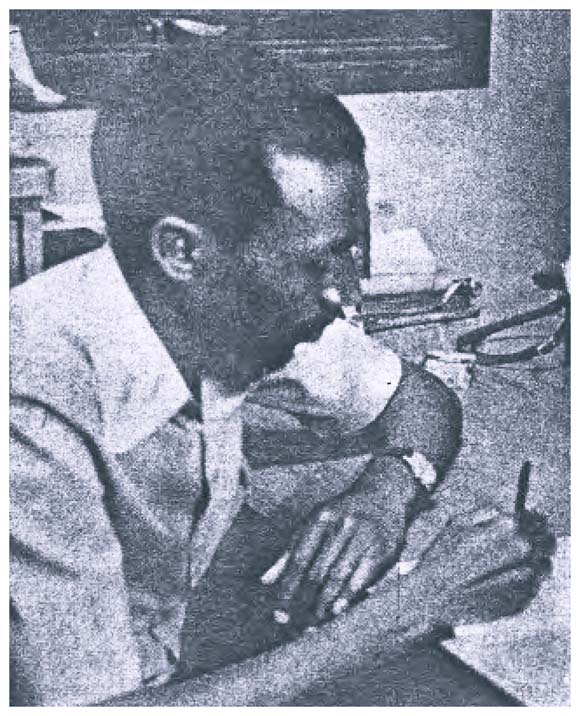 Above: The journalist Pedro Tivane, aged 32, editorial deputy director at the Notícias newspaper, killed in an ambush by Renamo fighters.
Despite the entering into force of the Nkomati Accord in March, the MNR/Renamo remained active. In one well-publicised incident, Pedro Tivane (1952-1984) was killed in a night attack while travelling in a group of four vehicles between Macia and Maputo. His infant son, aged 21 months, also died. In total five people were killed and two others injured. Tivane was "sub-chefe da redacção" at Notícias, and his murder received extensive coverage in the Mozambican media.
The anti-government propaganda radio station labelled "Rádio Quizumba" or Radio Hyena by the authorities closed down suddenly, with an announcer stating that it was for purposes of "reorganisation". The broadcaster had originally been set up by and had been based in Rhodesia, but seems to have been taken over by the South Africans after Zimbabwean independence. There were also multiple reports during the month of Renamo fighters surrendering to the FPLM, the Mozambican army.
Consolidated Downloadable Zipped Files
Click on the yellow folder image below to download an unsorted zipped archive of documents and press clippings in PDF format concerning the armed conflict between Renamo/MNR and the Mozambican government in March 1984.