The Conflict with Renamo, 1976-1992
«December 1987»
Dossier MZ-0020



94. The War with Renamo: "No End in Sight"?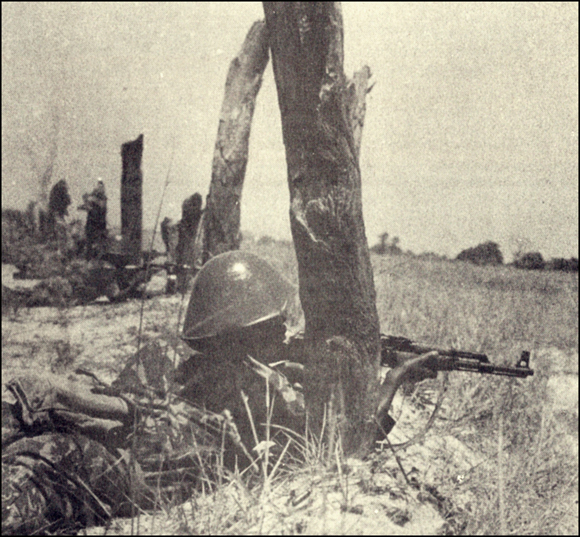 Above: Soldiers of the Mozambican army, the FPLM (Forças Populares de Libertação de Moçambique) during a training exercise. Despite their superior firepower, training, and equipment, the FPLM were unable to completely eliminate the threat of the Renamo insurrection, which avoided direct combat as much as possible, and conducted sabotage operations to demoralise the population.
At the end of 1987, one report was headlined "No End in Sight", while another asked "What Kind of War" it was. In 1987, the conflict had become significantly mor brutal, at least in terms of the number of civilians killed – in massacres at Homoine and Manjacaze, and in ambushes on the road north from Maputo at Taninga and Maluana. This last attack, on 28 November, continued to be reported in the local and international press well into December.
On 24 December the FPLM overran the MNR base at Nhanala in Gaza province, a major staging post for rebel attacks in the south of the country.
The Irish singer and activist Bob Geldof paid a short visit to Mozambique, visiting refugee camps and other places. At the end of his visit he condemned the MNR as "trigger-happy assassins".
Click on the yellow folder image below to download an unsorted zipped archive of documents and press clippings in PDF format concerning the conflict between the Mozambican government and the MNR/Renamo in December 1987.